Galia Pasternak / Lilian Adventures
Opening: 18/11/2010   Closing: 31/12/2010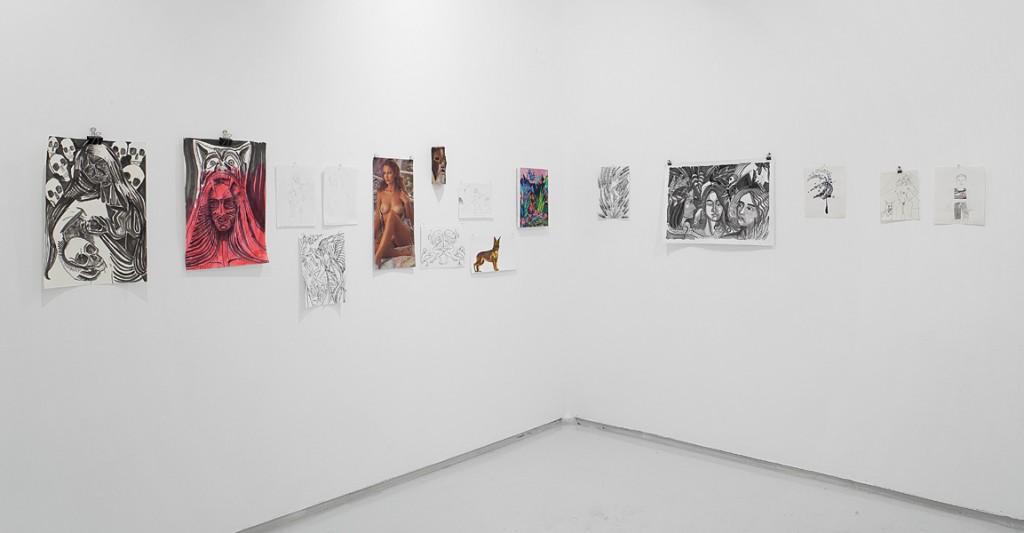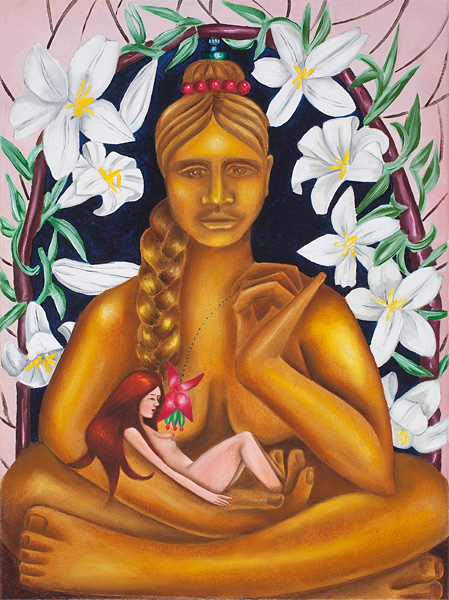 "Lilian's Adventures", Galia Pasternak's solo exhibition in Noga Gallery, presents a new series of surprising and fascinating paintings. The series follows the tails of Lillian, a fictitious mythological character, a "super hero" living and moving around between areas of fictional nature, culture and history. The character's image is based on a playboy centerfold from 1980, "a time when soft porn still corresponded with traditions in classical painting, in relation to the way the female nude was presented and perceived" says Pasternak. "Today's representations of nudity in porn have almost no connection with reality. Sexual stimulants may need such extremities of blown up images verging on the grotesque, in order to climax. A picture of a beautiful woman with small breasts, sitting crossed legged and hiding her privates, seldom arouses these days".
Similarly, the nudity in Pasternak's paintings is na?ve, harmless and unaware of itself. Thereby the viewer is freed from the moral duties that normally confront him in voyeuristic situations.  Our heroin Lilian corresponds not only with the playboy centerfold but also with Eve, Venus and Maria Magdalene. A character of a naked vagabond wandering around a wild, dangerous and beautiful world brings to mind grand tails of voyages by religious characters and comic- book heroes.  Each picture becomes an epic event, concentrating the culmination of the scene- a moment of clarity, of grace, of danger or of pleasure. Pasternak tells the tail of her fictitious heroin Lilian and gives every event a mythical title: "Lilian and the dream on the rocks", "Lilian inside the dragon's maw" or "Lilian in the showers of milk and honey". These titles connect the character to the so called male dominant world of religious myths.
The world Pasternak has created simultaneously brings to mind other examples of references in art history, such as Rousso, Blake, Botticelli, Fuseli, pre- Colombian painting, comics, a mixture of east and west. "This multiculturalism merges 'high' and 'low' art and allows me to paint the way I like, to say practically anything I wish to say and showcase what I find to be most beautiful. In general, I want to show mostly beauty in my painting, I want to give the viewer an aesthetic pleasure as well as consolation, as if I was sending out a message of kindness. I wish my painting to communicate a narrative coherently" says Pasternak.  While her previous large and colorful work, were always charged with a bizarre, circus like, bitter- sweet tension between animals and human figures, in her current series there is a more organic, even symbiotic relationship between Lillian's character and different signs of danger or threat. She doesn't fear threat and rather approaches it as an equal, with no known history, which is exactly what allows her to blend in and consequently win.
In addition to the paintings exhibited in the main gallery space, Pasternak reveals in the project room photographs, sketches and paintings that are in fact a "behind the scenes" look in to the "Lilian's Adventures" exhibition. The materials she worked with in creating the character, her distinguishing traits and her environment. A supposed peek into the private studio space Pasternak worked in, almost uncensored. A space where the magic of the final art work fades and you can see the "actors" without their costume, in their "real life". "I find this aspect very intriguing and I deal with it many times in my work. The "making of"- to see a painter paint, to see what goes into the process of his work. Mainly, to see the difference and the distance between what the painter did with the image he chose and the finished product. I find it to be like a detached look at the exhibition, like an exhibition inside an exhibition".
Galia Pasternak, born 1977, lives and works in Tel Aviv.
Has a BFA with honors and MFA from the Academy of Arts, Bezalel. Studied as part of the student exchange programs at the "Slade" school in London and at the "Ecole de Baux Arts" in Paris. Showed in dozens of group exhibitions in Israel and abroad. In 2008 she published an artist book named "Clips" that accompanied her solo exhibition at the Haifa Museum. Has also had solo exhibitions at the Artist Studios in Tel Aviv and at Noga Gallery.