Filipa Cesar / Berlin
Opening: 14/10/2005   Closing: 11/11/2005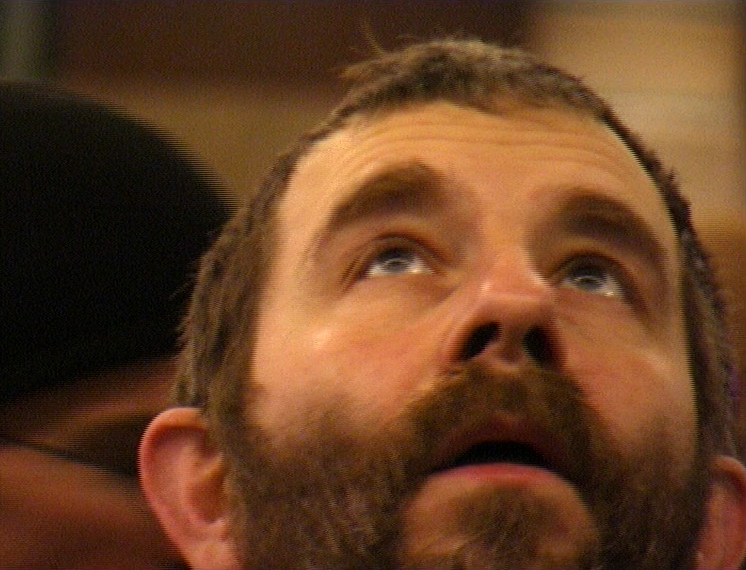 Filipa César chooses the anonymous citizen as the main character in her work: a character that is simultaneously idiosyncratic (endowed with its particular and unique characteristics) and generic (shares its existential condition with its peers). Her characters reveal themselves during banal moments of pause that intersect the daily routines in the space of the city, occasions of anonymity during which nothing apparently occurs, on the margins of the productive and functional conception of time, dominant in contemporary societies. The artist fixes both her gaze and ours on the realm of appearance, the external traces that define individuals socially, the externalisation of wealth, gestures and expressions, to suggest (and fictionalise) an inner life that remains greatly unfathomable. We are at the antipodes of a widespread critical perspective that sees the common citizen as a featureless person, devoid of qualities, standardized into his subjective world by the dynamics of contemporary life. In opposition to this, the artist places in motion a process of identification: the situations of daily routine she depicts, or fictionalises, and the strangers or actors she transfigures into characters, return the image of our own existence.
The exhibition "Berlin" features three video works:
Ringbahn is a video project that advances a two-folded insight on Berlin City's life policies, for it is both a documentary that issues from a direct observation, and a commentary that issues from an analysis of the former through a lens of a neurological disorder. Through a comprehensive editing procedure the two layers are combined into an associative sequence where from the juxtaposition of sound and image-track sometimes an unexpected meaning arises.
Aura is a gaze from the outside at our everyday behaviour. It presents a strange situation that raises questions about the veracity of the phenomenon of an apparent group hypnotic state. The main element that is the object of contemplation in this work is the Reichstag building, home to the German Parliament. In order to address the non-sense that this protagonist organizes around it, the viewpoint is inverted —the subject who is looking at the building becomes the object.
Berlin Zoo is a video loop set in the train station and terminal interface of the same name. Several bystanders were captured by the artist's camera as they are gradually overcome by a general state of disbelief – of shock and awe even – while staring upwards at the arrivals and departures timetables. This gallery of grimaces is intertwined with an eerie soundtrack of wind blowing and occasional squawks of birds. Berlin Zoo could be classified as a fake documentary on the contemporary wildlife of a metropolis, an exercise in modern day ornithology.