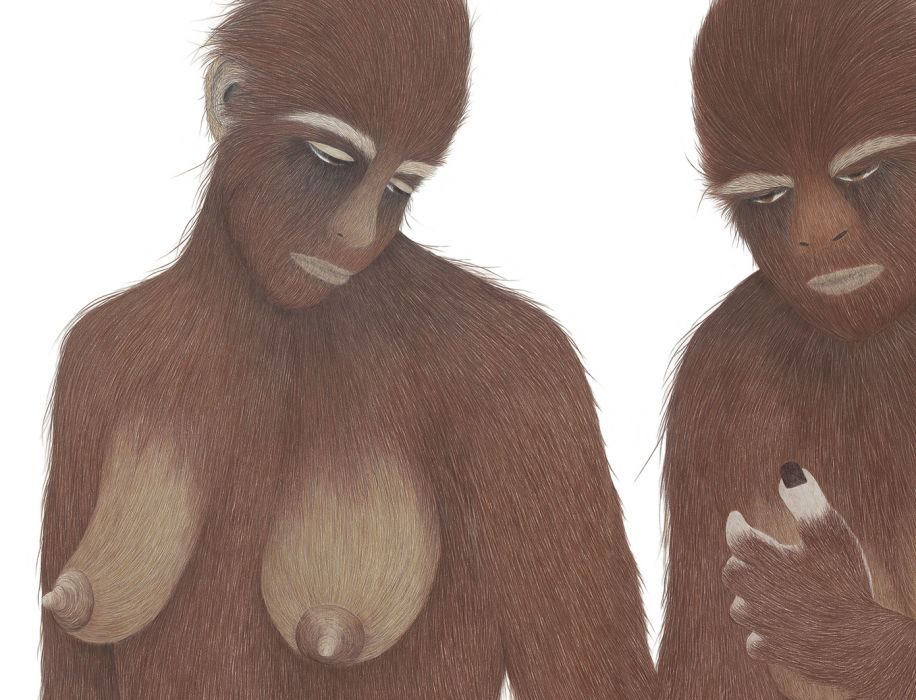 Moran Kliger
born. 1981,lives and works in Tel Aviv
She Graduated with honors from the Faculty of Design and Art, Shenkar College Engineering, Design and Art, Ramat Gan, Israel (2007) and Postgraduate the Fine Arts Program from Hamidrasha at Beit Berl College, Drom HaSharon, Israel (2013).
Kliger's work has been exhibited in solo and group exhibitions in Israel and abroad including the Tel Aviv Museum of Art (2018), Basis Gallery, Herzeliya (2018), OpenArt Biennale, Örebro, Sweden (2017), the Ein Harod Museum of Art (2017), the 6th Biennale for Drawing, the Jerusalem Artists' House (2016), Gordon Gallery, Tel Aviv (2015), The Museum of Fine Art- MoFA, Tallahassee, FL, USA (2015), "Fresh Paint 7 and 8", Contemporary Art Fair Tel Aviv (2014, 2016) and others.
In April 2015, Kliger was awarded a full scholarship from the Fountainhead Residency Program, Miami, FL. In May 2018, she participated in the Residency Program at the Cité international des arts, Paris, France. Her works are found in private collections in Israel and abroad, among others Art Partners Collection, managed by Gil Brandes, Dubi Shiff Art Collection, and others.
Kliger's body of work is based mostly on figurative, narrative drawings. It consists of series created in different techniques, that usually sprawled over a wide working area and mainly composed of thin lines that acquire an emotional charge due to their seemingly graphic, illustrative, neutral, and pathos-free appearance. Sometimes the drawings themselves become installations within a given space. Her works engage with the tension between the domesticated element and the wild and dark element within the human psyche. Through the use of motifs associated with raw nature and fantastical elements, she tries to explore the relationship between these two contradictory components in the definition of the human. The works are created in manual, painstaking, and sometimes even regimented labor that gives shape to issues that touch on urges and desires.
Moran Kliger
Education
2011-2013 Postgraduate Fine Arts Program, Ha'Midrasha Faculty of the Art, Beit Berl Academic College, Israel
2003-2007 Bachelor Degree with Honors, The Faculty of Art and Design, Shenkar Academic College, Ramat Gan, Israel
Solo Exhibitions
2020 Reflection, Rehovot Municipal Art Gallery, Israel
2018 bedrock, duo exhibition with inbar frim, galil gallery, akko
2018 Seven Primates, Basis Gallery of Art and Culture, Herzliya, Israel. Curator: Shlomit Broyer
2017 Primates, OpenArt Biennale, Örebro, Sweden. Curator: Lars Jonnson
2017 About Looking, Art Gallery the memorial center Tivon, Tivon, Israel. Curator: Michal Shachnai
Selected Group Exhibitions
2019 25 Years to Noga Gallery of contemporary art, Tel Aviv
2019 The 33rd KAF,KYOCERA Museum of Art, Japen
2019 Uni Graphica, The Karsnodar Art Museum, Russia
2018 plaster 6, minus 1 gallery, tel aviv
2018 Mahbua,ginogly centre for visual art, Jerusalem
2018 the soap cried a lot, al hazok gallery, netanya
2018 credit point,eretz israel museum, tel aviv
2018 animal affinit, artist house, tel aviv
2018 Erotic Salon, Noga Gallery of Contemporary Art, Tel Aviv
2018 And the Hand Draws On…, Tel Aviv Museum of Art, Tel Aviv
2018 A bad black gorilla, ArtSpace Gallery, Tel Aviv
2018 An elephant in the room, Beit Hankin Gallery, Kfar Yehoshua
2018 Wandering, The Open University Of Israel, Raanana
2017 Euphoria, Ein Harod Museum of Art, Ein Harod
2017 Prime Minister's Residence, The Red House, Tel Aviv
2016 Traces 6, National Drawing Bienniale, The Artists' House, Jerusalem, Curators: Sally Haftel and Edna Moshenson
2016 As If There Is a Place, ArtSpace Gallery, Tel Aviv
2016 Fresh Paint 8 – Contemporary Art Fair, Tel Aviv
2015 Summer Exhibition, Gordon Gallery, Tel Aviv
2015 Here Goes Nothing, Gallery 10, Beit Michal, Rehovot
2015 The 30th Annual Tallahassee International Exhibition, The Museum of Fine Art – FSU MoFA, Tallahassee, FL, USA
2015 Fountainhead Spring, Miami, FL, USA. Curator: Kathryn Quinlivan Mikesell
2014 Fresh Paint 7 – Contemporary Art Fair, Tel Aviv
2013 Royal Bitch, Ha'yarkon 19 – Arts, Culture and Education Venue, Tel Aviv, Curators: Maayan Amir and Ruti Sela
2012 Holy Shit!, 94 Allenby St. Passage, Tel Aviv
2012 RE: visiting Rockefeller, Israeli Contemporary Art at the Rockefeller Archaeological Museum, Jerusalem
Rockefeller Museum, Jerusalem, curator: Saly Haftels neve & Yanai Segal
2011 One, Two and Three, Selected Israeli artists from the three, Herzliya Biennial exhibitions Mani Hous, Tel-Aviv, curator: Dalia Levin | associate curator: Tal Bechler
2011 Body without body, body images in contemporary Israeli sculpture, Georg Kolbe museum, Berlin, Germany, Curator: Liav Mizrahi
2011 Making the Cut, Young Artist Award 2003-2010, The Genia Schreiber University Art Gallery, Tel-Aviv, curator: Diana Dallal
2010 Gabriel Orozco Was Here, Bezalel Gallery, Tel-Aviv, curator: Ruti Direktor
2008 Open Plan Living, TLV Project, Helena Rubinstein Pavilion, Tel Aviv Museum, curator: Dr. Andrew Renton
2008 D.I.Y* Israeli Post Minimalism in the Seventies and in the Contemporary Art, Herzelia Museom of Contemporary Art, Herzelia, curator: Adi Engelman
2007 In the Time Tunnel, Braverman ByArtProjects, Tel-Aviv
2006 Lego, The Heder art gallery, Tel-Aviv
2006 Incorrigible Young and Restless Romantics, Noga Gallery of Contemporary Art, Tel-Aviv, curator: Jossef Krispel
2005 May, MFA Graduated exhibition, Bezalel Academy of Art and Design
2005 Hunger, Rachel and Israel Pollak Gallery (Kalisher), Tel Aviv, curator: Naomi Aviv
2005 Power, Reading center, Tel Aviv, curator: Doron Rabina
2004 How to Explain Pictures to a Dead Hare, Rachel and Israel Pollak Gallery (Kalisher), Tel Aviv, curator: Naomi Aviv
2004 Winners of the Ministry of Education and Culture, Tel-Aviv Museum
Awards & Residencies
2018 Cité International des Art Residency, Paris, France
2017 Israeli Lottery grant – Catalogue Publication Support
2016 ACDP – Artport, Tel Aviv
2015 The Fountainhead Residency, Miami, FL, USA
Collections
Art Partners Collection via Gil Brandes (AP Founder & Managing Director) Dubi Shiff Art Collection Private Collections
Lectures
2018 Creative Mornings – A breakfast lecture series, EDR Center, Tel Aviv, Israel
2017 Iaspis – The Swedish Arts and residency Grants Committee, Stockholm, Sweden
2015 Hit – Holon Institute of Technology, Holon, Israel
2012-2014 Guest lecturer at Shenkar – Academic College, Ramat Gan, Israel
Publications
2018 Seven Primates, solo exhibition catalog, Basis Gallery, Herzliya, Israel. Haaretz News Paper, Review of the exhibition "Seven Primats" by Ouzi Zur, (Hebrew)
Portfolio, online culture magazine.
2018 An article written by Hagit Peleg Rotem, (Hebrew) Calcalist, business newspaper.
2018 An Interview by Reut Barnea, (Hebrew). The Day That Was, An Israeli late night program (on Israeli TV's channel 10)
2017 Primates, OpenArt Biennale, Örebro, Sweden – Catalog NA Newspaper, an interview about 'Primates', OpenArt, 11.6.2017, Sweden Moran Kliger – CV 3
Moran Kliger- Artist vidio, The Israeli creators – series of online doc films Telavivian – online magazine. An article written by Estee Balsam
2017 Tenoua – French Jewish Magazine,
2017 (French) A5 Magazine: Island, independent art and design magazine, Tel Aviv
2016 Traces 6, National Drawing Bienniale, The Artists' House, Jerusalem – catalog A5 Magazine: Youth, independent art and design magazine, Tel Aviv Harama Magazine #14: Share, online art magazine (Hebrew) Fresh Paint 8 – Contemporary Art Fair, Tel Aviv – catalog
2015 20 Years Later, Vitrina Gallery, HIT, Holon, Israel – catalog The 30th Annual Tallahassee International Exhibition, FSU MoFA, Tallahassee, FL, USA – catalog The Israeli Wood, Yavne Municipal Gallery, Israel – catalog Lowdown Magazine, online art magazine, Berlin, August
2015 Harama Magazine, online art magazine, #10: Universe, May (Hebrew) Hotem – Poetry, Art & Literature Magazine, winter issue, cover art (Hebrew)
2014 Fresh Paint 7, Contemporary Art Fair, Tel Aviv – catalog The Characters' Outlines – Redesign Online Magazine, December (Hebrew) A Conversation about Feminine Art, Time Out Tel Aviv Magazine, November (Hebrew)