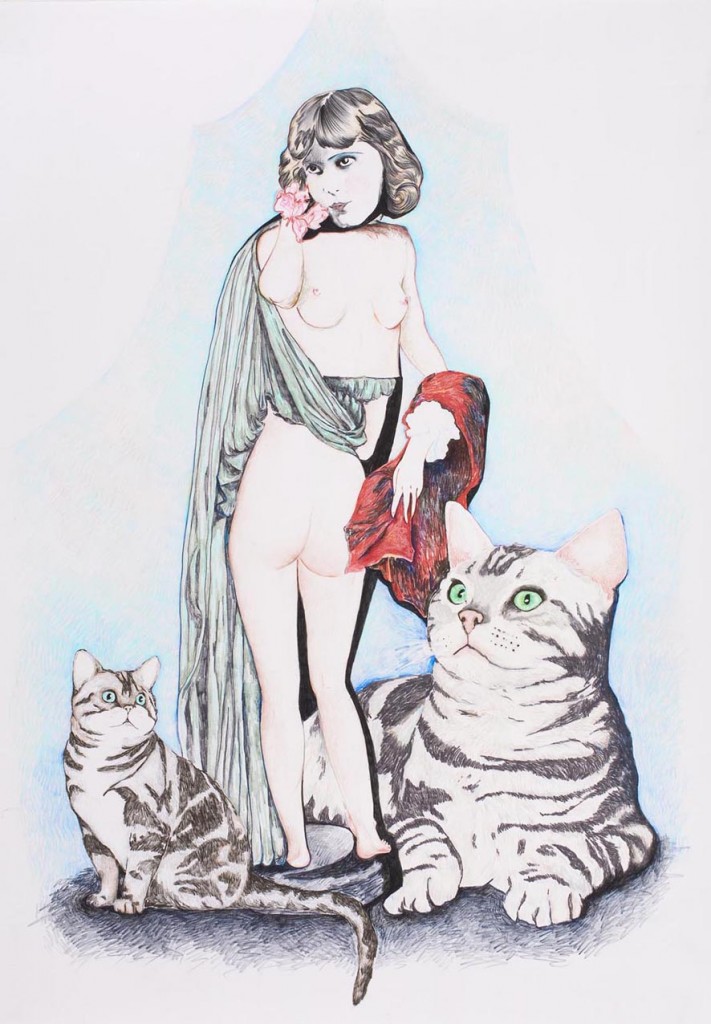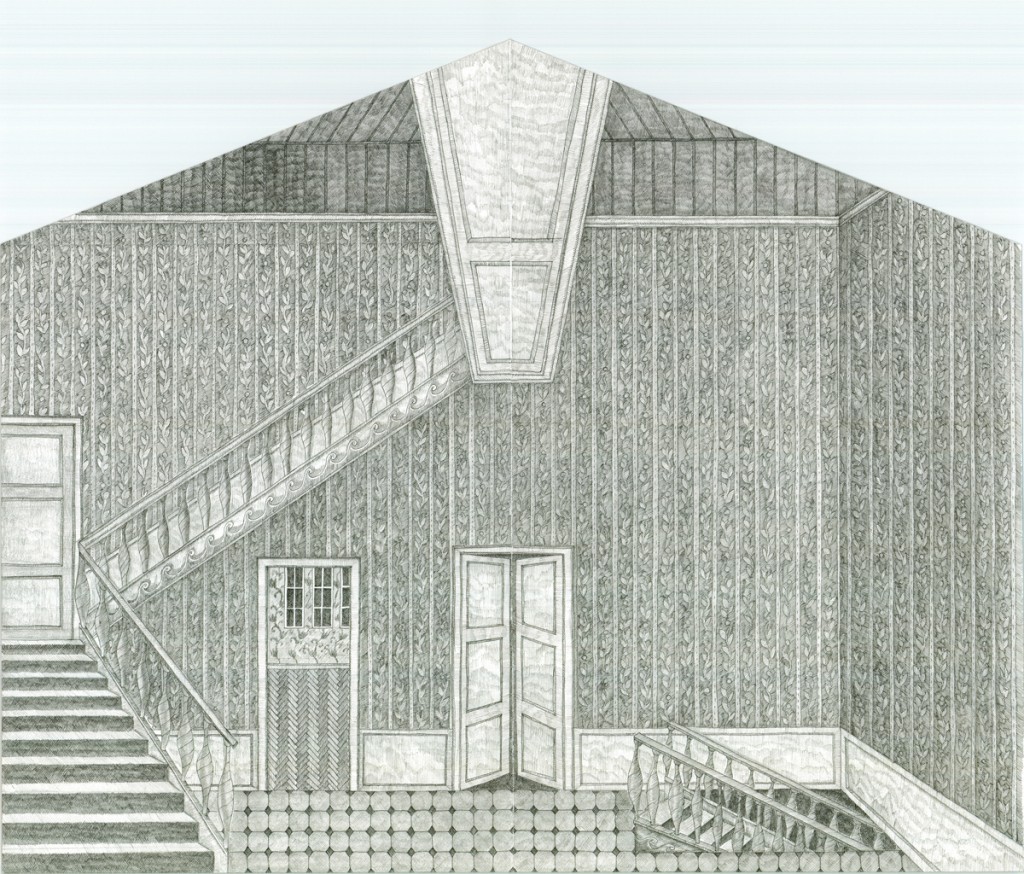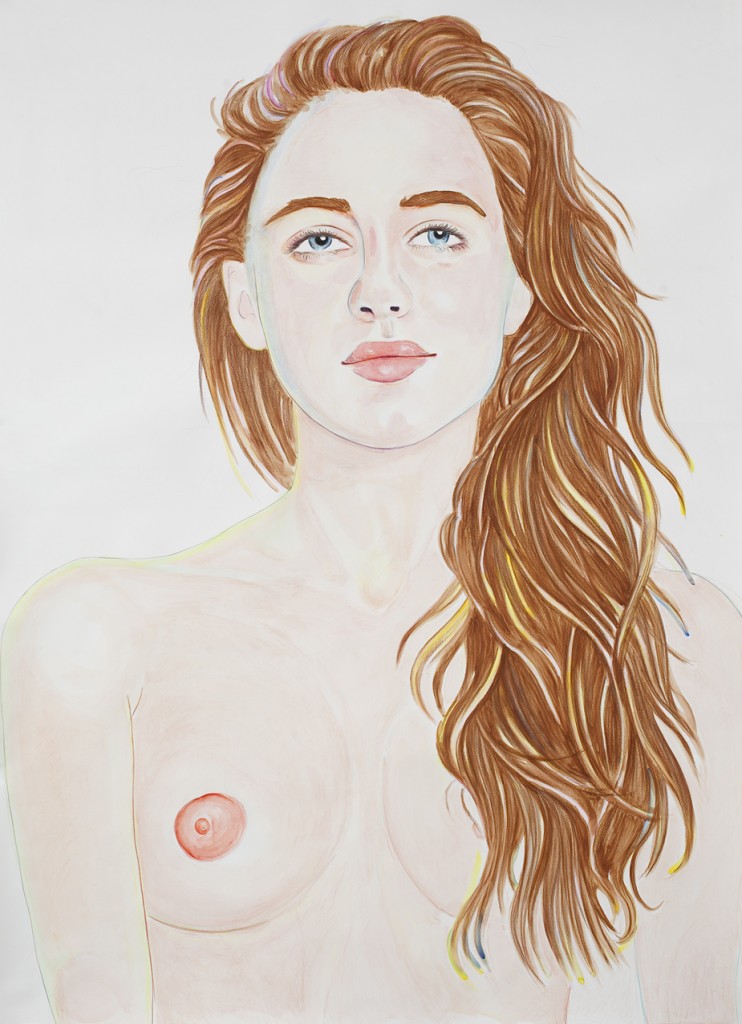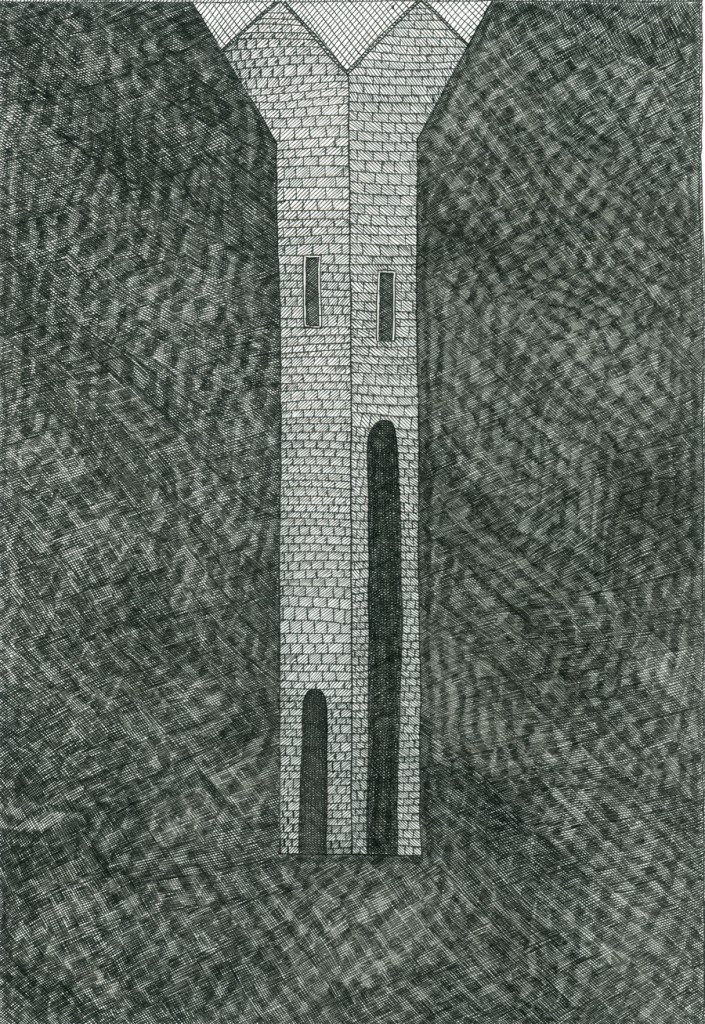 Alexandra Zuckerman
Alexandra Zuckerman was born in Moscow in 1981. She lives and works in Tel Aviv.
Zuckerman's drawings and paintings engage with intricate and mysterious representations. The artist operates as of her own hidden source of images; she is not interested in suggesting a narrative nor in capturing an outer reality.
With an effortless virtuosity and a confident hand she draws portraits, figurative images, hybrid elements, worn depictions, and fairytales. As the images often overlap and cover one another, a second observation is required in order to recognize them.
In her recent series of drawings Zuckerman points out what may only be glanced at. Opaque doors, closed spaces, a keyhole, and forest animals concealed in spaces or performing on stage. The drawings themselves deal to a large extent with appearances; they seem to be executed in toiling work of engraving, yet they are not. Flatness is their guiding principle. Each seemingly-illusionistic space reminds us that we are in a display of sorts, that we are standing before a stage, a play, an amusement meant for our eyes alone.
Alexandra Zuckerman studied art in Bezalel Academy of Arts and Design, Jerusalem and in Stadelschule, Frankfurt am Main.
Her works have been displayed in solo shows around Europe and Israel, including: The Dreaming House, Sabot Gallery, Cluj-Napoca, Romania; Black Sun, Iaspis Open House, Stockholm; In the Shadow of Young Girls in Flower, Gallery Christian Nagel, Berlin; The Olympians, Open Space, Art Cologne. She also participated As well as in several group shows, such as: Filosofen, Riis gallery, Stockholm; 427 gallery, Riga; Michal Helfman—Eli Petel—Alexandra Zuckerman, MK Search Art, San Giovanni Valdarno, Italy; The Drawing Room, Magasin 3, Stockholm; The 1st Herzliya Biennial of Contemporary Art; As If Words Meant Nothing, Kunstbuero Temporary Gallery Vienna; and Garbage Man Please Garbage Me, Brun, Düsseldorf.
Special projects: 2014: Brand, Fruit and Flower Deli, a project by Lucie Fontaine featuring Alexandra Zuckerman, Stockholm.
Zuckerman has been awarded the Excellence in the Arts from Bezalel Fine Arts Department, Jerusalem and the America-Israel Cultural Foundation Scholarship.
Alexandra Zuckerman
Born in 1981 in Moscow.
lives and works in Tel Aviv
Education
2008-2010: Biology Department, Tel Aviv University
2002-2006: Bezalel Academy of Art and Design, Jerusalem
2005: Städelschule, Frankfurt am Main
Selected Solo Exhibitions
2016 Upcoming- KIM?, centre of contemporary art, Riga, Latvia
2015 "the dreaming house",Sabot gallery, Cluj-Napoca,Romania
2014 "black sun",Iaspis open house, Stockholm, Sweden
2013 "what the moon saw"Noga, Tel Aviv
2011 "the olympians" Art Cologne (under the auspice of Christian Nagel)
2008 "In shadow of young girl in flower" Christian Nagel, Berlin
2007 "Kinski" Noga, Tel Aviv
Selected Group Exhibitions
2015 "Filosofen", Riis gallery, Stockholm, Sweden, (curated by Christine Ödlund and Fredrik Söderberg)
2015 427 gallery, Riga, Latvia
2014 Michal Helfman—Eli Petel—Alexandra Zuckerman, MK Search Art, San Giovanni Valdarno, Italy;
2014 The Drawing Room, Magasin 3, Stockholm.
2012 Bathing Season, Noga, Tel-Aviv; Mazonit, Sommer, Tel Aviv; Monkeys, 9 men #4, Alenbi Passage, Tel Aviv
2011 Painting Camp 4, City Gallery, Ramla, Israel
2009 As if words meant nothing, Kunstbuero Temporary Gallery, Vienna; Heaven, Noga, Tel Aviv.
2007 Herzliya Biennial of Contemporary Art; Paper, Noga, Tel Aviv;
2007 Artik 9, America-Israel Cultural Foundation Exhibition, Tel Aviv University Gallery
2006 Garbage Man Please Garbage Me, Brun, Düsseldorf
Special Projects
2014 Brand : A project by Lucie Fontaine featuring Alexandra Zuckerman, Fruit and Flower Deli, Stockholm