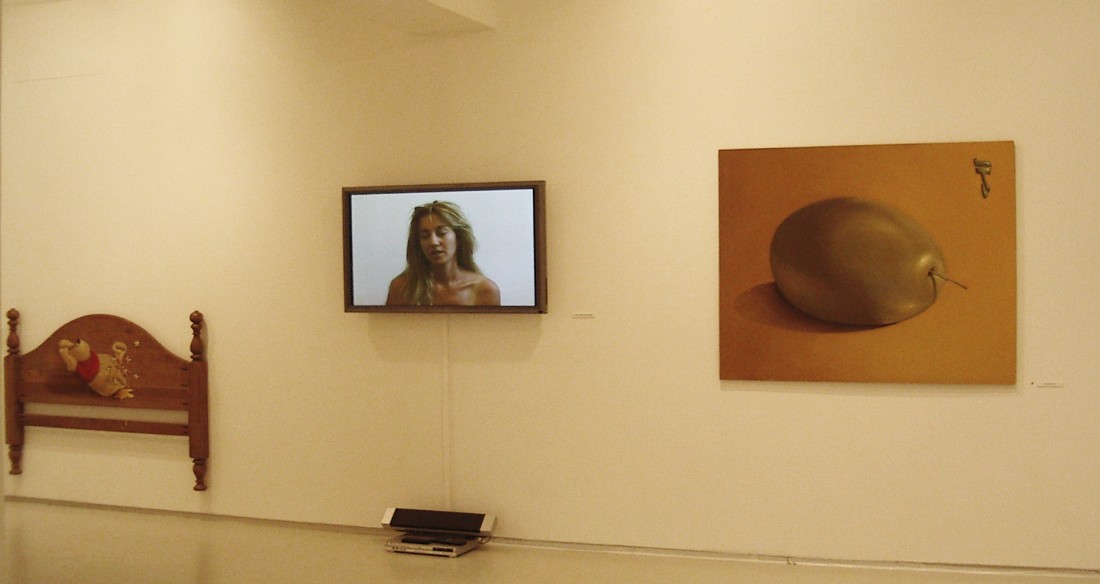 Marilou Levin / Crimes of the Heart
Opening: 12/02/2004   Closing: 20/03/2004

The name of Marilou Levin's new exhibition is taken from the play "Crimes – Heart" (by Beth Henley, 1979). At the core of the play are the confessions of Babe, the protagonist of the play, which describes a failed marriage, her romance with a 15 year-old black boy and her attempts to murder her husband when the romance is discovered. For the first time in her life Babe tries to connect with her true feelings.
In the exhibition, the video work "Crimes of the Heart" shows Marilou Levin playing the role of Babe continuously repeating the story of the attempted murder. The play deals with social norms, issues of choice, and the ability to maintain freedom of choice in the face of social norms and demands. These are questions that have appeared throughout Levin's work, to mention a few, "I have expectations", I'm happy for you", "go home", and more.
In a sophisticated connection between the worlds of childhood and adulthood – expressed for example by an innocent portrait of Pooh Bear that is turned into a female bear lying on her back, honey dripping from between her legs, a swarm of bees feed off her vulva – Levin reveals erotic, animal elements, even in seemingly innocent situations. From this cynical, ironic, dryly humorous standpoint childhood memories, parent-child relations, male-female relations are examined.
The exhibition includes a series of eleven black and white photographs, video, and oil paintings on different supports.